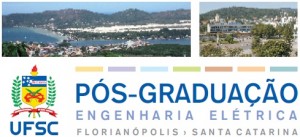 Click on the image above to download the PPGEEL brochure (In Portuguese)
Mission
"To produce scientific and technological knowledge and to train professionals to lead the processes of creation, transformation, and dissemination of knowledge, contributing to the improvement of society's quality of life".
The Graduate Program in Electrical Engineering (PPGEEL) began its activities in 1971, with the launching of the master's degree program. The doctoral degree program began in 1986. In 1999, the professional master's program was created.
PPGEEL has been receiving financial support of several national and international organizations for many years. In the most recent evaluation by the Brazilian Coordination for the Improvement of Higher Education Personnel (CAPES), carried out in 2022, the PPGEEL received grade 7 (out of 7) and it is now among the best and most well-known graduate programs in Electrical Engineering in the country. Its faculty is highly qualified and the majority of its students are dedicated full-time to their research, with scholarships granted by CAPES and the CNPq (National Council for Scientific and Technological Development).
The program aims to develop research and promote professional training with the necessary academic level, addressing the needs of society through the interaction with renowned education institutions in Brazil and abroad. It seeks to integrate the university with the community, preparing professionals to work in tune with the competitive needs of the productive sector.
The PPGEEL is organized into the following areas of concentration and lines of research:
– Electromagnetism and Electromagnetic Devices;
– Power Electronics and Electrical Drives;
– Electrical Energy Systems;
– Communications and Signal Processing;
– Biomedical Engineering;
– Electronic Materials, Devices, Circuits and Systems;
– Embedded Systems.
For further information about the concentration areas and research groups, please contact the respective faculty members.
By 2019, the PPGEEL had already graduated approximately 1,500 master's students and 500 doctoral students.